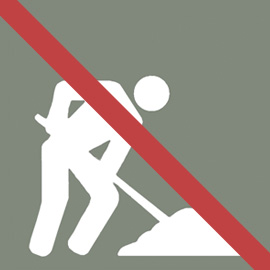 Carefree Acreage!
Tryon allows you the lifestyle of country acreage ownership at a fraction of the cost and responsibility you'd have going it alone!
Tryon Farm Homeowners Association
The houses of Tryon Farm are owner-occupied single-family condominium units. Common areas are maintained by the Tryon Farm Homeowners Association in conjunction with a commercial property management firm, 1st American Management Company (Valparaiso, IN). The Homeowners Association is controlled by an elected group of Tryon owners with staggered terms.
Monthly association dues cover such things as common-area insurance, association legal and accounting fees, landscaping and general property maintenance, snow removal and tree services. This makes for easy living!
Individual owners are responsible for servicing, maintaining and insuring their own Units, much like traditional single-family home ownership. The management firm and the Association Board of Directors are able to assist and provide contractor recommendations for any needed repairs or maintenance. Additionally, 1st American Management can provide concierge services such as turning up the heat in your unit or stocking your refrigerator ahead of your arrival!
Learn more at www.TryonFarmHA.org
Tryon Farm Institute
120+ acres of preserved open space surround the houses and common areas of the Homeowners Association. These open areas are currently, or scheduled to be, controlled by the Tryon Farm Institute --- an independent non-profit land trust and environmental education organization. The Institute currently controls approximately 40 acres, with another 20 scheduled to be delivered in in 2012. Remaining acreage is held by the Noonan development family and is scheduled to be delivered to the Institute as future houses and lands are developed.
Tryon Farm Institute is a recognized 501(c)(3) with a mission to connect human and natural communities by promoting habitat diversity and sustainable land husbandry. The Institute accomplishes its mission through a diverse program of demonstration, education, and exchange. The Institute and its operations are funded by private donations, a percentage of real estate transactions at Tryon Farm, and a variety of private and public-grants and cost-share management programs.
Learn more at www.TFInstitute.org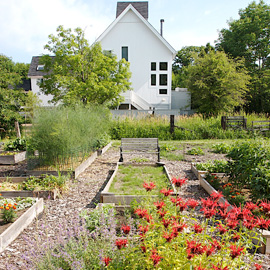 Like playing in the dirt?
The body fuels the mind! Many of us enjoy a little bit of work and hands-on connection to the land. Sound like you? Well you've found the right place! From gardening clubs to beekeeping to landscape restoration, volunteer and passion-driven opportunities abound. Adopt a goat, plant a pumpkin patch or grow your own heirlooms. Manage a stocked fishing pond or lead an environmental or artist workshop. Join the Institute!
Tryon is a collector of unique talents, perspectives, and learners with diverse resources to fuel individual passions. Add yours!