Visit Us!
Get a feel for the land. View the architecture. Have all your burning questions doused! From Open Houses and Special Events to on-site Lodging, there are a whole host of ways you can experience Tryon first-hand.
Feel free to stop by at any time to explore the lands on your own! There are really swell self-guided tour brochures available near the entry to direct you, if you're the type that's looking for direction.
For any general, non-real estate related questions, please contact our Marketing Director, Sarah Noonan, or at 301-455-5257. The Noonans welcome questions at their Chicago office - 847-910-3392.
For any questions related to the non-profit Tryon Farm Institute, Inc., please contact directly or by visiting the website www.TFInstitute.org.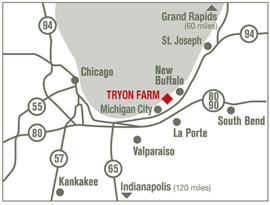 Location
Tryon is located at 1500 Tryon Road, on the northeastern edge of LaPorte County in Michigan City, Indiana. Only 1-1/2 miles from Lake Michigan's southern shore, in the country between downtown Michigan City and New Buffalo, Michigan.
We're just south of US Hwy 12 and Long Beach public beach "Stops" 22 and 30 (turn South at Moore/Eastwood Road), about 1/2 mile down the road from Shady Creek Winery.

Events
Events
Guided nature walks, pop-up dinners, architectural house tours. Just a few of the many community and special events open to the public that we host year-round at Tryon! Check out our events page for the complete list of upcoming activities and do plan on joining us!
Bed & Breakfast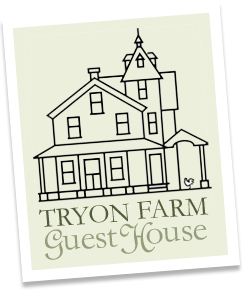 Come spend a day or two at the Tryon Farm Guesthouse, the original farm family's brick farmhouse turned charming 4-room Bed & Breakfast.
Fresh eggs from the Tryon chickens, an outdoor shower with tub, and an attic adventure area make for fun relaxation in the country and an excellent way to get a feel for Tryon living!