Tryon Farm Events: Archive
Tryon Farm provides a range of public opportunities throughout the year to experience modern country living though a variety of unique events. Find out more about past Tryon Events below...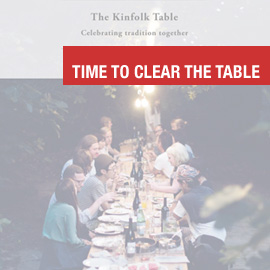 Celebrating Traditions Together
The Kinfolk Table
Sat October 26, 2013 (PAST EVENT)
More Kinfolk Photos
The Kinfolk Table came to Tryon Farm. It all began with an early afternoon Cocktail at Parson's Chicken and Fish. Once guests arrived at Tryon Farm they found a harvest popcorn and cider bar, a hayride tour of the property, and a Kinfolk's pop-up pantry for tastings of local spirits, beer, and Rare Bird Preserves.
Kinfolk dinners always include a pie - Pleasant House Bakery created savory, seasonal pies meant for sharing, along with autumnal side dishes inspired by The Kinfolk Table cookbook. All served amid a long, candlelit table set with vintage tableware by Plate: Vintage Crockery Rental.
The night ended with a bonfire, fall inspired sweets (and perhaps another nip of whiskey) before heading back into the night.
Country Fall Weekend!
Crescent Moon
Sat October 12-13, 2013 (PAST EVENT)
We're talking Saturday evening bonfire, wood-fired pizza, wine & star gazing! Stick around for an outdoor barn screening of Back to the Future!
Sunday morning is all about fitness + well being. All this will be rounded out at noon with guided tours of Tryon's new homes and 170+ acres of countryside. Make sure to fill your belly with a food truck lunch and craft beers. We haven't forgotten the kids! They will have a blast working on eco-crafts, taking haywagon rides and hunting for pumpkins.
Come for one, or come for all events!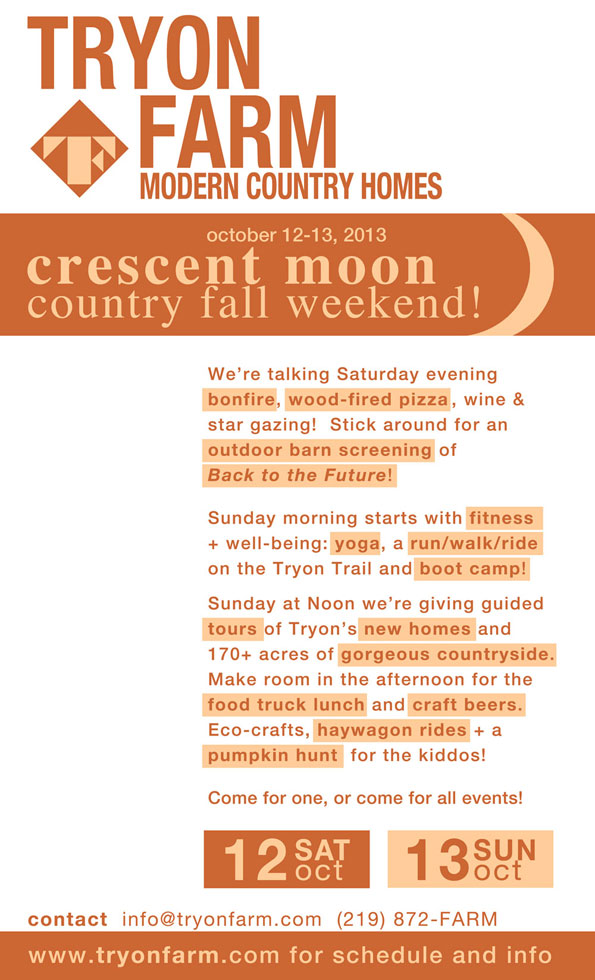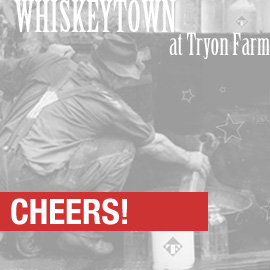 FOOD | WHISKEY | FIRE
Whiskeytown at Tryon Farm
Sat September 21, 2013 (PAST EVENT)
5-10pm
Join us for an evening of Journeyman Whiskey tastings with Sensory Expert Simon Barrios. Music and a bonfire will round out the festivities along with great food created by Spire Farm to Fork Restaurant.
$50 per person: VIP Whiskey Tasting & Tasting Menu
$10 General Admission: Cash Bar & Food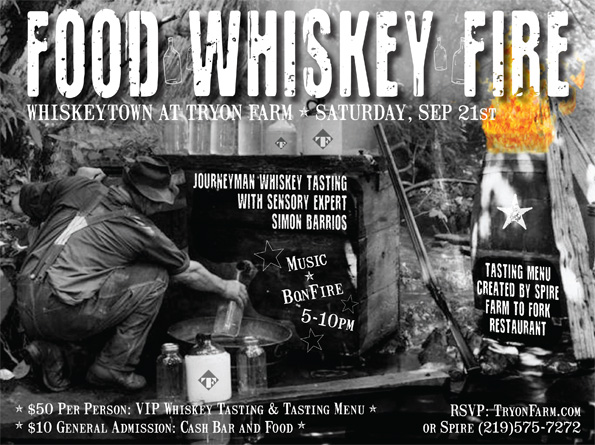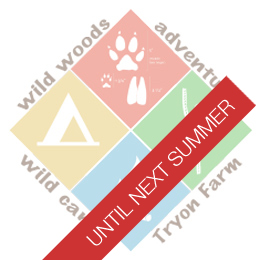 Tryon Farm Institute
Wild Woods Adventure: Wild Camp
3 days at Tryon, for ages 9-14 (PAST EVENT)
Wed August 7 - Friday August 9, 2013
(9:30am - Noon daily)
Kids (ages 9-14) spend 3 days in the woods learning how to set up a "wild camp!" Jon and Lu Hook will be instructing how to use common sense and ingenuity for basic survival skills in the woods. Shelter building, campfire making, rope making, and knots. Learn how to build a monkey bridge! First aid skills, hiking, plant and animal identification will be part of this wild woods adventure.
5k run/walk, 10k and 50k runs + Kids Race!
Tryon Farm Trail 5/10/50K Run
May 18, 2013 (PAST EVENT)
Thank you to all who participated in, volunteered for, and sponsored our second annual Tryon Farm Trail 5/10/50K RUN!
The Tryon Farm Trail is a 10k loop through majestic grasslands, sloping dunes and towering beech and oakwood forests. Approximately 60% of the course is on densely wooded single track that follows existing deer paths. The remainder of the trail brings you through protected native grasslands of prairies and hayfields. At one point, the course takes you over a sod-roofed modern house that has been built into the landscape. The trail also includes a couple of small water crossings so expect to get your feet a bit wet and muddy.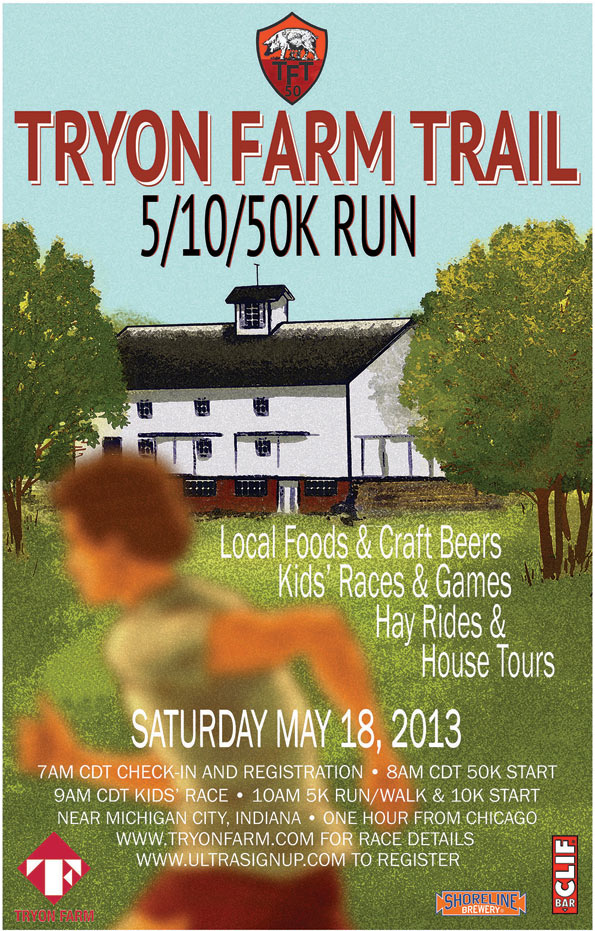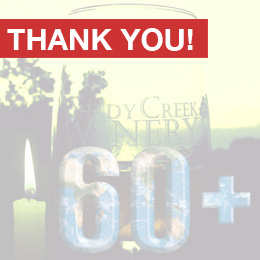 Wine Tasting by Candlelight
March 23, 2013 (PAST EVENT)

Thank you for joining us in celebrating International Earth Hour in style!
Tryon's public environmental non-profit organization Tryon Farm Institute and Shady Creek Winery in Michigan City presented a unique wine tasting event by candlelight, featuring pairings of local meats and cheese.
The event was a benefit to the mission and ongoing work of the Institute to connect human and natural communities through a diverse program of education, outreach, and idea exchange. Learn more at TFInstitute.org

Dîner en Blanc
PAST EVENT (August 18, 2012)
EVENT PHOTOS
Tres chic! Another beautiful pop-up dinner in the Tryon barn is in the books! The rules were simple: (1) Wear white! (2) Bring white!.... You brought your own tables, chairs, foods, and settings. We brought the barn! The gorgeous weather was divine!
This year there was a $10 suggested donation to offset the modest hosting costs and to help fund the terrific conservation and education work by the non-profit Tryon Farm Institute. Thanks to all who attended and supported!
See you next year?!

TFI Birds & the Bees Festival
PAST EVENT (June 18-23, 2012)
IN THE BLOGS || EVENT PHOTOS
Thanks to all who came out and the many volunteers who made possible a terrific week of environmental education and fun! Tryon Farm Institute, in partnership with LaPorte County Soil & Water Conservation hosted a week of programming to celebrate National Pollinator Week. Activities included movie screenings, honey beekeeping demonstrations and a catered pollinator dinner with guest speaker Jennifer Hopwood of the Xerces Society.